2020 DLF Forum Cocktail/mocktail
"Raisin Awareness: Don't judge a book, by its apPEARance"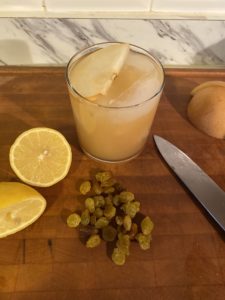 Alcohol or Tea of Choice-  I will be using rum, but this recipe will work with most alcohol! I recommend dark or spiced rum, whiskey, or vodka. If you are making a spirit-free cocktail choose a tea that you like! Black tea will work best. I am going to work with Lapsang. Lapsang is notoriously smokey and will add that extra fall essence for this cocktail!
Pear Juice– I buy mine at my grocery store, you can certainly juice your own in a blender if you'd like, Asian pears will work best. 
Golden Raisin Syrup- Recipe below!
Lemon Juice
Start by making the golden raisin syrup. Regular raisins are fine and delicious, I am using golden for color. This simple syrup is fantastic to just have in the fridge as well, I drizzle some on some greek yogurt and nuts for dessert, add some to my morning tea, I even made a homemade apple cider and used this as the sweetener. It's perfect for making a nice fall Old Fashioned as well! 
Golden Raisin Syrup Recipe
1 c. of golden raisins
1 c. of granulated white sugar
1 c. of water
In a small saucepan on medium heat, toast golden raisins in the pan. This will take a couple of minutes. Be careful to not let the raisins burn, we just want to toast them, so stir frequently. Once you see little brown marks on all sides of the raisins  (See picture below), add sugar and water to raisins, and move to low heat. Stir until sugar is dissolved.  Strain syrup from raisins and discard raisins.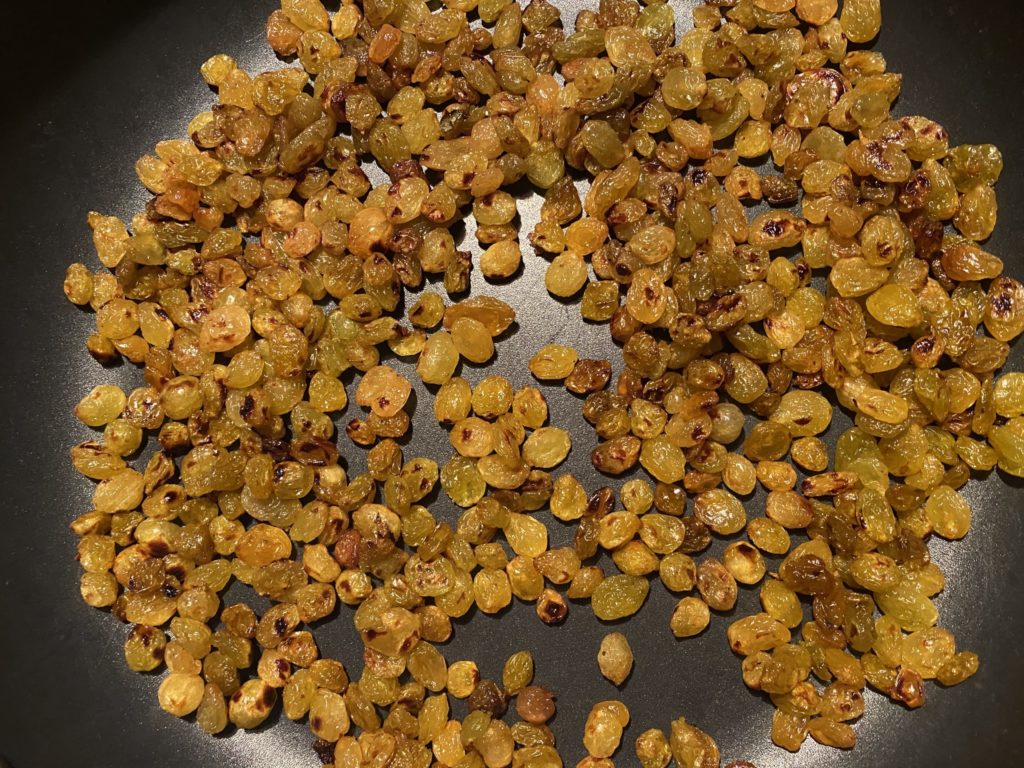 *this is more than a cup of raisins and in a much larger pan. I just wanted to show you the brown toasty spots on the raisins
2 oz of Alcohol or tea of your choice *if using tea, brew to per the instructions on the packaging and add 2 oz to your spirit-free cocktail
½  oz of Lemon Juice
¾ oz of Golden Raisin Syrup 
4 oz of Pear Juice
Shake all ingredients with ice. Strain into 10-12 oz. Glass over ice. 
(If you don't have a cocktail shaker that's ok! You can stir it too! Add all ingredients to a glass and stir with ice. The key is dilution, so a healthy stir of about 15-20 seconds is best!) 
*I garnished my drink with a slice of Asian Pear, but it would work well with an expressed lemon peel. With a peeler, peel a slice of the skin trying to leave the pith (the white part of the rind) Squeeze the peel over the cocktail to get the oils out. Leave the peel in the drink or discard. 
ENJOY! 
I enjoyed making this fall-inspired at-home cocktail for you to enjoy! Have fun with it! 
If you have any questions feel free to email me at ashleymac@mac.com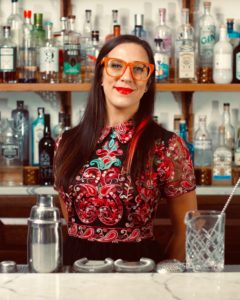 Ashley Mac has been in the Hospitality Industry for eighteen years. Ashley is currently running the bar program at the newly opened NiHao in Canton, Baltimore. She is the Social Media Director of the Baltimore Bartenders Guild, and a Program Director of HEARD Online & HEARD Baltimore. HEARD is a non-profit organization that focuses on mental health, wellness, sobriety, and health care for people in the Hospitality Industry. In her spare time, Ashley enjoys hanging out with her dog LouLou, writing and sending letters, and is a huge Philadelphia Flyers fan.
Venmo: @ashley-mac-4